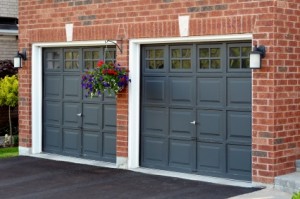 While most people don't spend much time thinking about them, garage door springs are essential components for opening and closing your garage doors properly. If your garage door springs are broken or damaged, you won't be able to control the movement of your door. You may actually find yourself in a position where you can't open your garage door at all or where it closes too quickly and threatens your safety. When this happens, call the garage door spring repair specialists at Suppa and Sons Overhead Doors. We provide professional garage door spring replacement and repair services for home- and business owners throughout Leominster and the nearby area. Get in touch with us today to schedule garage door springs repair!
There are a great number of reasons why you might need to replace garage door spring parts. From improper installation to natural wear and tear, it's not unusual for property owners to require garage door spring replacement every now and then. To ensure your safety and the continued functionality of your garage doors, contact the garage door springs repair professionals at Suppa and Sons Overhead Doors at the first sign of an issue with your garage door's springs. If your garage door seems to be falling or slamming recently, or it won't open up at all, that's a good sign that you need to pick up the phone and call in a garage door springs replacement professional. Damaged garage door springs can actually be extremely dangerous, so it's best to fix the problem immediately. When you contact us to repair or replace garage door springs, we'll get right to work to ensure that you get the best possible results. We offer a one-year guarantee on our work, so you can have confidence in our team's ability to offer you lasting garage door spring repair.
Affordable Garage Door Spring Replacement
Your garage door springs are responsible for helping you to easily move a large door. When something goes wrong with these parts, you shouldn't have to pay an arm and a leg to get them repaired or replaced. When you turn to Suppa and Sons Overhead Doors for garage door springs replacement or repair, you can expect some of the best prices in Leominster. We'll replace your garage door springs carefully and professionally, all the while keeping your costs as low as possible. Don't suffer for another moment with broken garage door springs that limit your access to your property. Instead, call us today to discuss replacing your garage door springs. We offer free estimates, and we can't wait to serve you!